Ticmate velgørenhed
Er det muligt at drive en profitabel virksomhed, samtidig med at hjælper med at gøre verden en smule bedre? Det tror vi på. Derfor har vi startet Ticmate velgørenhed.
I Ticmate er vi vilde med at tilbyde rejsende de bedste oplevelser rundt omkring i verden. Vores mål er at drive en sund virksomhed, der er med til at forme verden for vores kunder, ansatte og leverandører. I 2019 har vi 27 ansatte i virksomheden, der svarer til 18 fuldtidsansættelser. Derudover er vigtigt for os at tage et socialt ansvar og arbejde for en bedre verden, derfor donerer vi årligt op til 10% af vores overskud til Læger uden Grænser (MSF).
Siden 2009 har vi doneret 2.553.500 SEK til velgørende formål.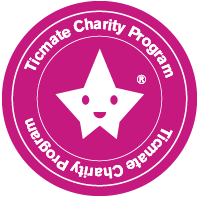 Læger Uden Grænser
Læger Uden Grænser er en humanitær organisation der redder liv og hjælper nødlidende hvor der er mest brug for det. Læger Uden Grænser hjælper hvor der opstår kriser, krig og natur katastrofer uanset politik, religion eller etnicitet.
Her hos Ticmate, er vi stolte over at støtte deres arbejde og siden 2011 har vi doneret 2.123.686 svenske kroner:

Mellem 2015 og 2018 hr vi doneret 1.040.000 svenske kroner til Læger Uden Grænsers arbejde for at hjælpe flygtninge over hele verden.

I 2014 donerede vi 450.000 svenske kroner til arbejdet mod Ebola og hjælp til katastrofen i den Centralafrikanske Republik.

I 2013 donerede vi 200.000 svenske kroner til Læger uden Grænsers hjælpearbejde i Syrien.

I 2011 og 2012 donerede vi 363.500 svenske kroner, heraf gik 70.186 svenske kr. til Læger uden Grænser.

"On behalf of MSF I would like to thank you all at Ticmate for your hard work which resulted in a generous gift to our work with Ebola and our projects the Central African Republic. We are really impressed by and thankful for your commitment to our organisation and the work we do."
-Katharina Ervanius, 'Læger Uden Grænsers'

Læs mere Om Læger Uden Grænsers arbejde her.